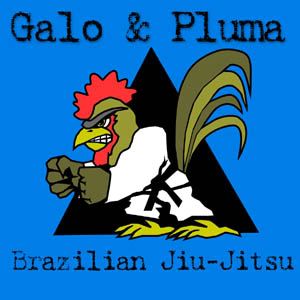 I formed a Facebook group -
The Galo and Pluma BJJ Group
- for roosterweights and light feathers to join.
Since us little guys and girls are fairly few and far between, I thought it would be a nice way to join forces and share experiences.
So far 19 people have joined which I'm really chuffed about, especially

a number of women too. I'm particularly pleased that under 50kg fighter Lisa Newton kindly accepted my invite. She is an amazing competitor, worth catching in action if you get the chance.
I will post links to videos and interviews to top-flight galo and pluma fighters on the group page to inspire us and maybe learn some tips from. I've also got patches and maybe t-shirts planned. It'll be nice to recognise each other by the patch on our gis.
Already it seems we're all in agreement that the early days of learning BJJ are especially tough as we seem to constantly get crushed. But we also pick up new techniques fast and move faster than heavier players. As one member states:
"in the past I have resorted to taking various protein / weight gain drinks in my failed attempts to move me up a few categories. I realise now that we are ' special ' and respect my place in the galo and pluma divisions"


Mundials
It's only 3 weeks to go until the BJJ World Championships, or Mundials as they are more commonly referred to (June 4th). This year they will be held in California which I thought was a nice move. It means more fighters from the USA and the rest of the world will take part and it will attract wider media interest. Surprisingly, for a top-level tournament that attracts the world's elite players, anyone can enter. Long as you pay the fee and make weight, you can compete. Not that I would be tempted. It's still a long way to travel just to get submitted in the first round! (Mind you, I am tempted by the European Championships in Lisbon next year.)

Mill Hill RGA will be represented by Daniel Strauss, Chris Hearn and Asif Ahmed. I couldn't think of three more highly accomplished and skilled fighters. I wish them luck in bringing the bling back to the UK.


Training
I seem to be progressing nicely at the moment. I'm happy with my consistency and rolling with top guys like the aforementioned Mundial hopefuls certainly helps my own game. Last night, we were taught by one of Roger Gracie's brown belts, Bruno Zanacar. Bruno went through a couple of neat little half guard escapes and then got us to spar for one hour! I was totally wasted at the end. The big event of the UK this year will be the British Open, in Birmingham at the end of June. Loads of people are gearing up for this and training hard so it's a great incentive for me to step up the pace.